Big names in wrestling have walked the halls of Bound Brook High School. Before earning an NCAA title at Virgina Tech, it is where two-time NJ state champion Mekhi Lewis got his start. Andrew Flanagan, class of 2005, is a Harvard graduate and another back-to-back state champion. And senior Lennix Horsburgh, the first female wrestler for the district who placed second in the state last season.
BBHS Head Coach Manny Kakas is committed to inspiring the next generation of Bound Brook wrestlers. As a former wrestler, he has seen firsthand how it transforms your mindset for the better. His goal is to create a safe space for students after school and during breaks.
The Summer Wrestling Program creates an opportunity to do just that: recruit new kids for the wrestling program, expand the sport for all grade levels and give students a safe place to have fun while learning about wrestling.
More about the Summer Program
The week-long program happens annually and is open to all grade levels and neighboring towns. Participants, regardless of experience, gain hands-on experience with the sport. When a Bound Brook High School alumnus isn't teaching a workout, certified clinicians lead the participants and teach different techniques.
The camp serves as a fundraiser and benefits the full Bound Brook wrestling program. In recent years, Coach Kakas expanded the camp to allow younger participants. It promotes a positive environment for all genders and levels (pre-K to 12).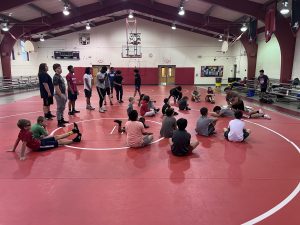 "Wrestling is a challenging sport. I've grown up in the Bound Brook program and the endless amount of support I've received from coaches and teammates has been tremendous," said Horsburgh. "It's so exciting being a part and seeing the program as well as the individuals grow as much as it has. I can't wait to see what this year holds for everyone."
Horsburgh has had an impressive high school career winning multiple NJSIAA North Region titles, placing at states, and becoming the first female wrestler to place in the Somerset County Tournament in 2022.
Harnessing the Alumni Network
Tapping into the rich history of Bound Brook wrestling, Coach Kakas invites back alumni to speak to participants and teach them moves. Andrew Flannagan returned to the mat to kick off the first day of the clinic in July. Flannagan wrestled for Harvard University where he earned an Eastern Intercollegiate Wrestling Association (EIWA) championship.
"Bound Brook is a small community. And for all of us it's always about how we can benefit the kids," said Coach Kakas. "I'm extremely proud of the dedication our wrestlers show to the sport and to the school community, even well after they've graduated."
Last summer, Mekhi Lewis returned to host a workout. He answered questions for the young wrestlers and spoke about how the sport transformed his mindset.
Benefits of Wrestling
With intense training and practice, it's no doubt that wrestling strengthens the body. The very nature of the sport requires participants to develop strength, endurance, and agility. Wrestlers build muscular strength, improve cardiovascular endurance, and enhance their flexibility.
Beyond the physical and health benefits of the sport, wrestling offers advantages that will help student-athletes thrive in other areas of development. Unlike team sports, wrestling is individualized. It teaches student-athletes character attributes like resilience, discipline and determination.