Board of Education
Mission
Our district's mission is to be a supportive multicultural community that provides an innovative and academically challenging educational program while offering a variety of extracurricular and social opportunities that encourage life-long learning and citizenship.
The Bound Brook Board of Education operates with that same mission statement as its guiding compass, prioritizing the academic, physical, and emotional well-being of the students, staff and families that make our richly diverse and inclusive district.
The Board of Education
Note: Board Members Combined Vacancy Advertisement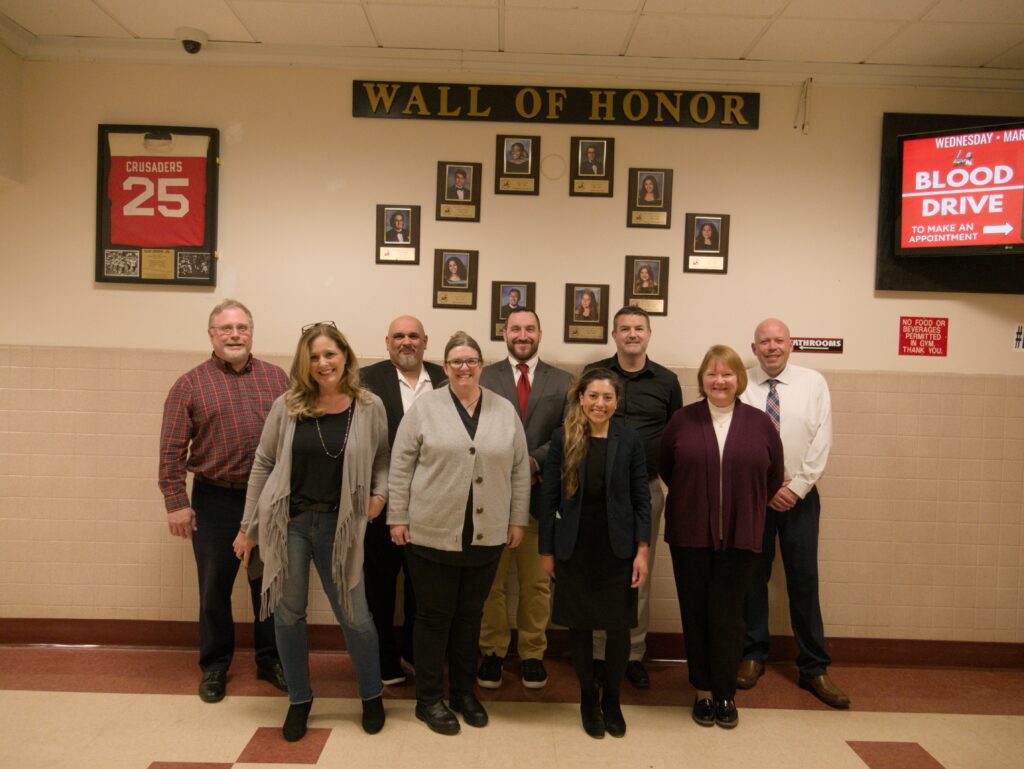 President – Richard Jannuzzi
Vice President – Michael Bal
Member – Roger Zupko
Member – Lisa Guzzino
Member – Joanna Musson
Member – Gagandeep Minhas
Member – Sidney Dawson
Member – Therese Sue High
Member – Donald Vollmer
South Bound Brook Representative – Edith Lima
Superintendent – Alvin Freeman
Meeting Schedule
All Board of Education meetings for the 2022 calendar year are held in-person in the Bound Brook High School Theater, located at 111 W Union Ave, Bound Brook, NJ at 6:30 PM. All meetings also have a virtual participation option for those unable to attend in person:
Meeting Dates
Wednesday, January 4, 2023 – Organization Meeting
*Wednesday, January 18, 2023
*Wednesday, February 15, 2023
*Wednesday, March 15-, 2023 – Tentative Preliminary Budget
*Wednesday, April 26, 2023 – Tentative Final Budget
*Monday, May 15, 2023
*Tuesday, June 20, 2023
*Wednesday, July 19, 2023
Wednesday, August 16, 2023
Wednesday, September 20, 2023
Wednesday, October 18, 2023
Thursday, November 16, 2023 Cancelled Rescheduled for the November 29
Wednesday, November 29, 2023
Wednesday, December 20, 2023
Wednesday, January 3, 2024 – Organization Meeting
Contact The Board of Education
The Board recognizes the importance of listening to the community and realizes that community members may wish to present ideas, questions, or comments outside of the regularly scheduled public Board meeting.  To that end,  if you have questions, comments, or concerns as it relates to board matters, please enter the information in the link below.  The Board Secretary will see that the information is shared with the Board members, as appropriate.
Additionally, from time to time the Board and/or Administration will need volunteers to test new ideas or solicit feedback from a variety of topics. If you would like to offer your time, please enter your name and best contact number in the following Form Link.You can also indicate your willingness to support the Board and/or Administration, as both groups will, from time to time, need community members to test new ideas or offer feedback on a variety of topics
2023 Standing Committees
Education Committee
Edith Lima
Michael Bal
Richard Jannuzzi (ex officio)
Sidney Dawson, Chairperson
Athletics & Co-Curricular (Ad Hoc)
Lisa Guzzino, Chairperson
Gagandeep Minhas
Richard Jannuzzi (ex officio)
Donald Vollmer
Operations
Roger Zupko, Chairperson
Richard Jannuzzi
Lisa Guzzino
Donald Vollmer
Human Resources
Gagandeep Minhas
Joanna Musson, Chairperson
Richard Jannuzzi (ex officio)
Therese Sue High
Governance
Michael Bal, Chairperson
Joanna Musson
Richard Jannuzzi
Therese Sue High
Somerset County Educational Services
Therese Sue High
Lisa Guzzino (Alternate)
Bound Brook School District July 2023 – December 2023 COMMITTEE MEETING SCHEDULE
Monday, July 10, 2023
Human Relations 5:30-6:00
Operations 6:00-6:30
Education 6:30-7:00
Governance 7:00-7:30
Athletics & Co-Curricular 7:30-8:00
Monday, August 7, 2023
Human Relations 5:30-6:00
Operations 6:00-6:30
Education 6:30-7:00
Governance 7:00-7:30
Athletics & Co-Curricular 7:30-8:00
Monday, September 18, 2023
Human Relations 5:30-6:00
Operations 6:00-6:30
Education 6:30-7:00
Governance 7:00-7:30
Athletics & Co-Curricular 7:30-8:00
Monday, October 2, 2023
Human Relations 5:30-6:00
Operations 6:00-6:30
Education 6:30-7:00
Governance 7:00-7:30
Athletics & Co-Curricular 7:30-8:00
Monday, November 6, 2023
Human Relations 5:30-6:00
Operations 6:00-6:30
Education 6:30-7:00
Governance 7:00-7:30
Athletics & Co-Curricular 7:30-8:00
Monday December 4, 2023
Human Relations 5:30-6:00
Operations 6:00-6:30
Education 6:30-7:00
Governance 7:00-7:30
Athletics & Co-Curricular 7:30-8:00