Harassment, Intimidation & Bullying (HIB)
Bound Brook School District is a multicultural, diverse district that welcomes people of all backgrounds and promotes citizenship through tolerance and diversity. Our mission is to support all students while providing safe, innovative settings for learning, extracurricular activities, and social opportunities that encourage life-long learning. There is a zero-tolerance policy for harassment, intimidation, and bullying in our district. Read our full policy here.
Report a HIB Incident
If you or someone you know has been the victim of an unsafe situation in school – harassment, intimidation, bullying, weapons violations, dating abuse – your school wants to help. There are several ways to report the incident in order to get help. One way is by telling a trusted adult at school. Another more formal way is by filing a written report utilizing the link below. The final way is file an anonymous report, again by utilizing the link below.
HIBster was developed to help students and schools stop bullying behavior. Anyone can anonymously report any inappropriate behavior. If that person wishes to remain anonymous, the contact info section of the online reporting form can simply be left blank. Administration will then follow up to the report. If the form is being used by a member of the school district, the user should include their contact information. Particularly important are the First Name, Last Name and Email fields.
HIB Self Assessment Grades 21-22
The school grade is a raw score of data and the sum of the ratings for all indicators within each core element on the School Self-Assessment (e.g., 65 of 78 points). The maximum total score for a school is 78 points. The school district's grade is an average of the total scores of all schools in the school district. The NJDOE-issued grade is not represented as a letter grade; the NJDOE is not issuing any associated value or ranking for the raw and average scores. The raw and average scores reflect the school and school district's degree of compliance with the Anti-Bullying Bill of Rights Act (ABR), as determined primarily through each school's self-assessment of its implementation of the ABR.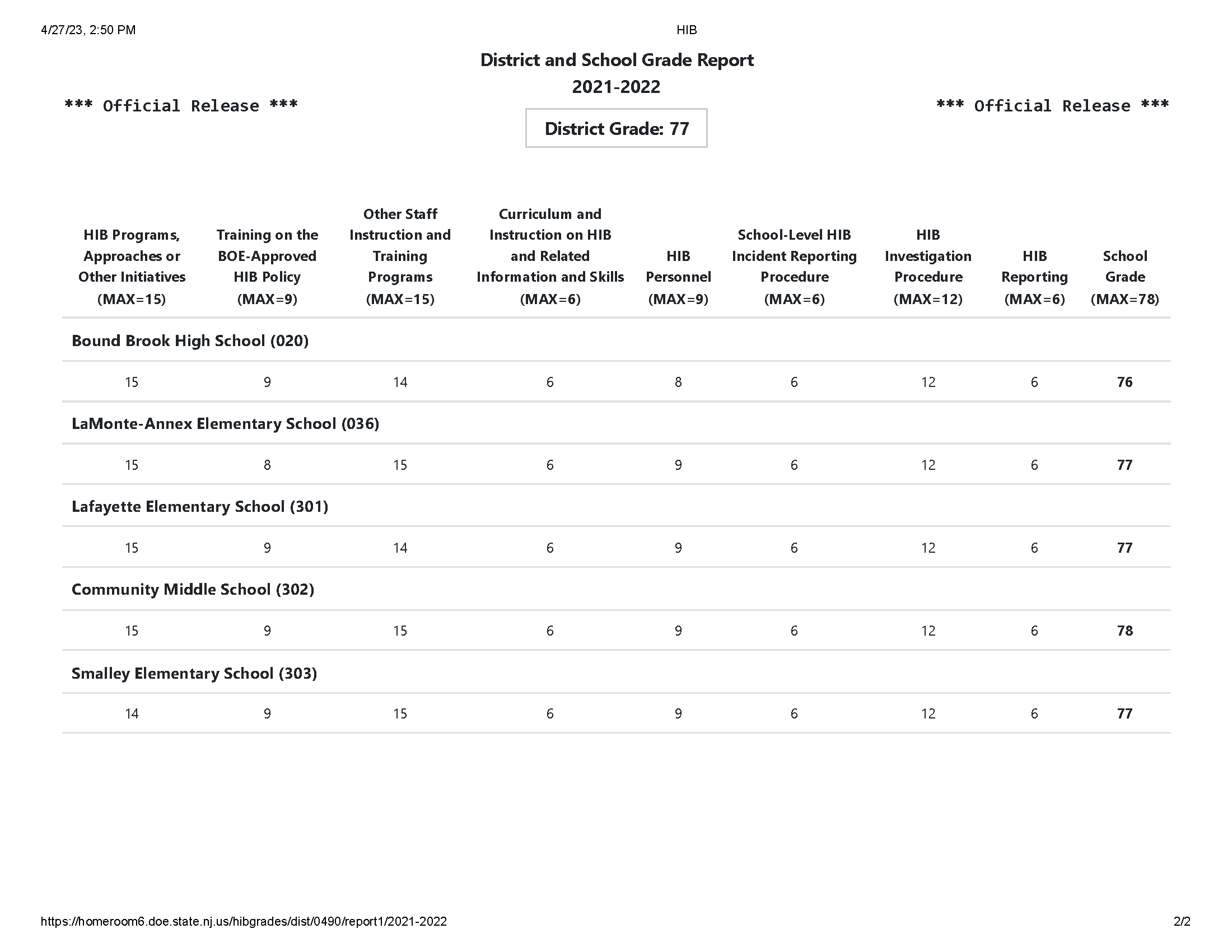 Anti-Bullying Specialists
Bound Brook High School
Nicholas Moran
732-652-7950 ext. 3586
nmoran@bbrook.k12.nj.us
111 W. Union Ave, Bound Brook, NJ 08805
Community Middle School
Nicholas Moran (until October 14)
732-852-1136 ext. 7134
nmoran@bbrook.k12.nj.us
Adam Raphael (after October 14)
732-852-1136 ext. 7134
araphael@bbrook.k12.nj.us
120 E. 2nd St, Bound Brook, NJ 08805
Smalley Elementary School
Jeffrey Jaegel (Grades 5 & 6)
732-652-7954 ext. 5965
jjaegel@bbrook.k12.nj.us
163 Cherry Ave, Bound Brook, NJ 08805
Emily Ianniello (Grades 3 & 4)
732-652-7954 ext. 5964
eianniello@bbrook.k12.nj.us
163 Cherry Ave., Bound Brook, NJ 08805
Lafayette Elementary School
Janeen Kinney
732-652-7933 ext. 3957
jkinney@bbrook.k12.nj.us
50 W. High Street, Bound Brook, NJ 08805
LaMonte / Annex Elementary Schools
Sara Mejia
732-652-7957 ext. 3979
smejia@bbrook.k12.nj.us
50 W. 2nd Street, Bound Brook, NJ 08805
Anti-Bullying Coordinator
Anthony A. Mormile, Ed.D.
732-652-7966 ext. 3966
amormile@bbrook.k12.nj.us