Superintendent's Office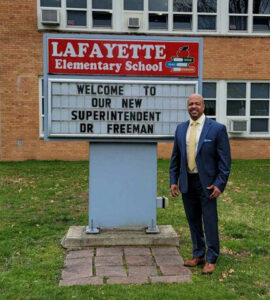 Dear Bound Brook School Community,
Welcome to the 2022-2023 school year! As the new superintendent of the district, I am excited to embark on this journey with you, joining the diverse, multicultural community of Bound Brook.
Every new year brings with it an opportunity for student growth, and this year is no different. Focusing wholeheartedly on the social, emotional, and academic well-being of our students, we move forward striving for excellence.
Our mission statement calls on us to provide a supportive, multicultural community for students to explore and innovate in academically challenging programs and extracurricular activities. This has never been truer to our vision.
On behalf of the school district and Board of Education, we thank you for your continued support of the Bound Brook School District. It is with great pride that we move forward together, ensuring that our students and staff are Bound to Astound.
Truly,
Alvin L. Freeman, Ed.D.
Superintendent of Schools
Administrative Contracts
Dr. Alvin L. Freeman, Superintendent
Daniel Gallagher, Assistant Superintendent
Beth Fischer, Assistant Superintendent
Michael C Gorski, Business Administrator/Board Secretary